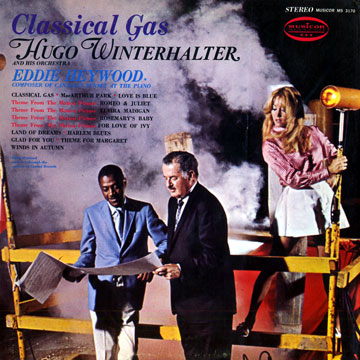 Eddie Heywood (piano) & Hugo Winterhalter
"Classical Gas"
Musicor records 1970 (réf. MS 3170)
Featuring :
Eddie Heywood (piano), Hugo Winterhalter, Ray Alonge, Milt Hinton (bass), Joe Marshall (drums), Everett Barksdale (guitar), Maurice Bialkin, Arthur Bogin (violin), Julius Brand (violin), Maurice Brown (cello), Bob Bushnell (bass), Joe De Angelis, Emmanuel Green (violin), Irving Horowitz (trumpet), Harry Katzman (violin), Bernard Kaufman (flute), Walter Levinsky (saxophone), Herbie Lovelle (drums), Joseph Malignaggi (violin), Charles Mc Cracken (cello), Harry Melnikoff (violin), Tony Miranda (flute), Kermit Moore (cello), Eugene Orloff (violin), Raoul Poliakin (violin), George Ricci (cello), Wally Richardson (guitar), Albert Richmond (trumpet), Tosha Samaroff (violin), Julius Schacter (violin), Harvey Shapiro (cello), Alan Shulman (cello), Sylvan Shulman (violin), Jo Soldo (saxophone), Avram Weiss (violin)
33rpm, stereo, second hand, 20.00 €
[23.60 US$, 2,594.00 ¥]

Original US Pressing (black label, gatefold cover)
Record's condition : M
Cover's condition : VG+
Outstanding sound!

Cover's corners are worn.
Beginning ringwear on the rear cover's upperside.

Both epic and voluptuous sort of album.