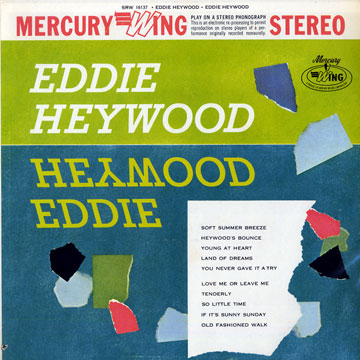 Eddie Heywood (piano)
"Eddie Heywood"
Mercury 1963 (réf. SRW 16137)
Avec la participation de :
Eddie Heywood (piano),
33rpm, stereo, occasion, 20.00 €
[23.60 US$, 2,594.00 ¥]

Original 'Wing' series US pressing (black and silver label, deep groove)
État du disque : VG
État de la pochette : VG+ / one cut down the front cover
> vendu
The famous 'Love me or leave me' opening title is phenomenal, it feels quite like a bucket of icy water thrown in our faces!...Forward dive into Heywood's personal musical's know-how.

Some pleasing vocal tracks are featured; 'If it's sunny sunday' and 'Land of dreams'!

Heywood's paralysis is bare next to his ever present artistry.

Audible dust trace on 'Young at heart' 's first quarter.
Mild sputterings on the second side.