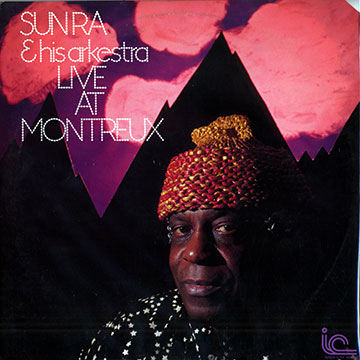 Sun Ra (piano)
"Live at Montreux"
Inner city 1976 (réf. IC - 1039)
Avec la participation de :
Sun Ra (piano), Marshall Allen (flute), John Gilmore (saxophone), Clifford Jarvis (drums), Pat Patrick (saxophone), Ahmed Abdullah (trumpet), Cheryl Banks, Larry Bright (drums), Hayes Burnett (bass), Chris Capers (trumpet), Vincent Chancey (cor), Danny Davis (saxophone), Al Evans (vocals), Craig Harris (trombon), Judith Holten, Reggie Hudgins, James Jackson (guitar), Stanley Morgan, Elo Omoe (clarinet), Danny Thompson (saxophone), June Tyson (vocals)
double 33rpm, stereo, occasion, 34.00 €
[40.12 US$, 4,409.80 ¥]

US pressing
État du disque : VG+
État de la pochette : VG+ / cut on right upper corner
Light signs of ringwear on the upper front cover.
Track listing : for the sunrise - of the other tomorrow - from out where others dwell - on sound infinity spheres - the house of eternal being - gods of the thunder realm - lights on a satellite - take the a train - prelude - el is the sound of joy - encore 1 - encore 2 - we travel the spaceways.