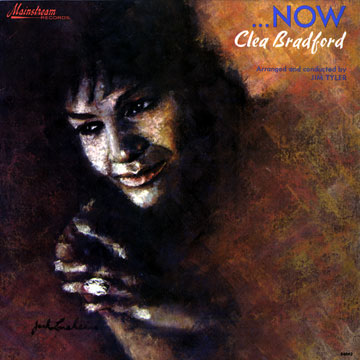 Clea Bradford
"...Now"
Mainstream records 1965 (réf. S 56042)
Avec la participation de :
Clea Bradford, Eddie Bert (trombon), George Duvivier (bass), Barry Galbraith (guitar), Urbie Green (trombon), Milt Hinton (bass), Hank Jones (piano), Clark Terry (trumpet), Don Arnone, Ariana Bronne, Alfred Brown (violin), Fred Buldrini, Pete Buonconsiglio, Jo Cali, Norman Carr, Leon Cohen, Sid Cooper (saxophone), Bernard Eichen, Alla Goldberg, Walter Legawiec (violin), Pete Makas, David Mankovitz, Jimmy Maxwell (trumpet), Johnny Messner (trombon), Romeo Penque (flute), Jo Soldo (saxophone), Tony Sophos (cello), Tony Studd (trombon), Bob Tricarico (saxophone), Jim Tyler, Emmanuel Vardi, Stan Webb (saxophone), Jack Zayde (violin), Anthony Zungolo
33rpm, stereo, occasion, 20.00 €
[23.60 US$, 2,594.00 ¥]

Original US pressing (little microphone featured on a black and steel blue label)
État du disque : VG-
État de la pochette : VG+
> See pictures about : Hank Jones
> See pictures about : Clark Terry

A thrilling voice!...And a great band!!
Some considerable snapping sounds on the 1st side's first track.
Pretty luckily; those sounds then quickly fade out.
Sputterings will however be noticeable on the 2nd side's 3rd track.

There is a magnificent cover which front cover design was done by Jack Lonshein whose Clea Bradford's portrait is just admirable.
On the rear cover's only white space is punched a company's registration number's black stamp...Not too big!
A trace of a sticker on the rear's upper right handcorner.
It has to be mentioned as well that the lower left handcorner.