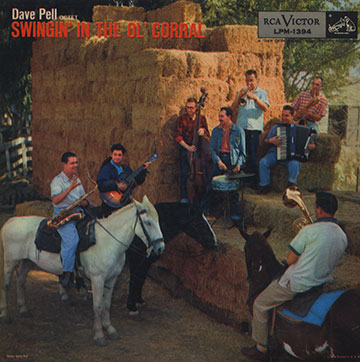 Dave Pell (saxophone)
"Swingin' in the ol' Corral"
RCA victor 1957 (réf. LPM- 1394)
Avec la participation de :
Dave Pell (saxophone), Marty Paich (piano), Shorty Rogers (trumpet), Marty Berman (saxophone), Frank Capp (drums), Buddy Clark (bass), Don Fagerquist (trumpet), Ray Sims (trombon), Tommy Tedesco (guitar)
33rpm, mono, occasion, 48.00 €
[56.64 US$, 6,225.60 ¥]

Original US pressing , deep groove
État du disque : VG+
État de la pochette : VG+
Inaudible small trace on the side one.
Great record.

Little wear on the corners.
The back cover is a little bit dirty.