shops
5 rue de navarre
75005 Paris
T: (+33) 1 43 36 78 92 contact@parisjazzcorner.com
Agency open from
tuesdays to saturday
from 12.00 AM to 8.00 PM
27 place de la libération
30250 Sommières
T : (+33) 4 66 35 42 83
contact@parisjazzcorner.com
Agency open on:
Saturday from 12.00 AM to 7.00 PM
or by appointment
Focus
THE NEXT SENDINGS WILL BE ON THE WEEK OF THE 13rd OF DECEMBER. TAKE CARE ALL!
À la une

Nicolas Bourel
"Line Out"
Guitarist Nicolas Bourel releases his first album with original compositions, accompanied by Martin Berauer on electric and upright bass and Daniel Dray on drums, after having explored the American jazz standard repertory for many years. Under the guidance of Lenny Popkin, he studied the music of jazz greats Lennie Tristano, Lester Young, Charlie Christian and Charlie Parker. He is presenting us a variety of compositions inspired by this musical background as well as his love for fusion and world music.The art of improvising stands at the center of Bourel's music, which this trio interprets with authenticity, intensity and joy.

1- Line Out
2- Iso
3- It's You
4- Jaguar
5- Little House
6- Afrosphère
7- Trip
8- Parenthèse
9- April
10- Espérance
11- Moins deux
Les photos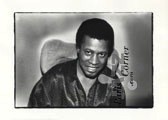 "Wayne Shorter Paris 1987"
Real print from original negative of Wayne Shorter from 1987 , black and white 18 x 24 cm (7.20 x 9.60''). All the high quality photos of this exceptional collection are issued from a french photograph agency and all photographed in France excepted when noticed.
All are stamped on back by the agency.
Publication is subject of reproduction rights.

BEWARE! We announce you the photos print sold on line are only available in one copy, barely not available in two copies.
Once sold, we absolutely can't provide you with another copy.


27 place de la libération - 30250 Sommières - T : (+33) 4 66 35 42 83 -
contact@parisjazzcorner.com
Agency open on: Saturday from 12.00 AM to 7.00 PM or by appointment
©parisjazzcorner.com 2015 |
legals mentions
|
to contact us
|
top