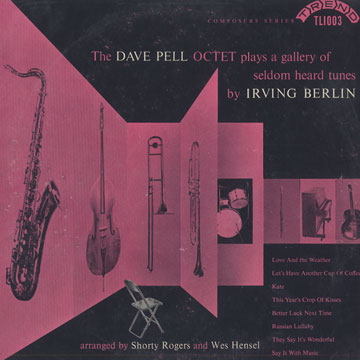 Dave Pell (saxophone)
"The Dave Pell Octet Plays a gallery of seldom heard tunes by Irving Berlin"
Trend records 1953 (réf. TL 1003)
Avec la participation de :
Dave Pell (saxophone), Tony Rizzi (guitar), Shorty Rogers (trumpet), Rolly Bundock (bass), Geoffray Clarkson (piano), Don Fagerquist (trumpet), Wes Hensel (trumpet), Ronnie Lang (saxophone), Ray Sims (trombon), Jack Sperling (drums)
10', mono, occasion, 50.00 €
[58.00 US$, 6,145.00 ¥]

Original US pressing (deep groove)
État du disque : VG+
État de la pochette : VG+
A VG+/VG- Jewel.
Tiny diffuse sputterings.
Four brief sputterings on the first quarter of 'better luck next time'.

VG+/VG- Cover.
Cover's edges are worn.
Rear cover's upper edge is a little worn, left corner.

Nearly unknown Irving Berlin's tunes arranged by both Shorty Rogers and Wes Hensel.
Just who's the vocalist on 'They say it's wonderful!'?