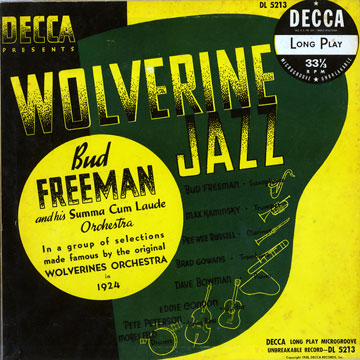 Bud Freeman (saxophone)
"Wolverine Jazz"
Decca 1950 (réf. DL 5213)
Avec la participation de :
Bud Freeman (saxophone), Eddie Condon (guitar), Max Kaminsky (trumpet), Pee Wee Russell (clarinet), Dave Bowman (trombon), Morey Feld (drums), Brad Gowans (trombon), Pete Peterson (bass), The Summa Cum Laude Orchestra
10', mono, occasion, 35.00 €
[40.60 US$, 4,301.50 ¥]

USOriginal pressing (black label, deep groove) - rare
État du disque : VG-
État de la pochette : VG+
Dust traces on the second side provok sputterings.
Those sputterings quickly fade away on the record's first side as the tracks are more up tempo.