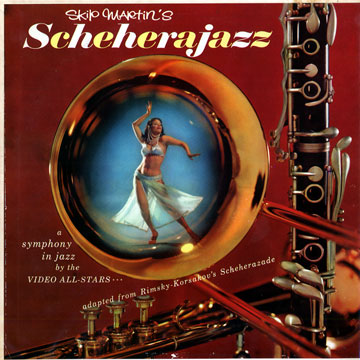 Skip Martin (conductor)
"Skip Martin's Scheherajazz for Symphony orchestra and Jazz Band / Adapted from Scheherazade"
Somerset Records 1950's (réf. SF 9700)
Avec la participation de :
Skip Martin (conductor), Pete Candoli (trumpet), Paul Horn (flute), Red Mitchell (bass), Ted Nash (saxophone), Frank Rosolino (trombon), Jimmy Rowles (piano), Franck Beach (trumpet), Milt Bernhart (trombon), Gus Bivona (saxophone), Larry Bunker (vibes), Clarence Carella, Jay Cave (bass), Irving Cottler (drums), Vince De Rosa (trumpet), Don Fagerquist (trumpet), Chuck Gentry (saxophone), Conrad Gozzo (trumpet), Al Hendrickson (guitar), Joe Howard (piano), Jules Jacob (saxophone), Ed Lustgarten, Dick Perissi, George Roberts (trombon), Eudice Shapiro (violin), Lou Singer (drums), Joe Trescari
33rpm, mono, occasion, 38.00 €
[42.18 US$, 4,655.00 ¥]

US Pressing (sky-blue label and deep groove)
État du disque : VG+
État de la pochette : VG+
The thrilling sound of the very talented arranger Skip Martin!
Very clever, he'll turn ou to be the one who will compose and bring creative arrangements to the toppest bandleaders such as Count Basie and so on.

As a fact, the record is rated as between VG+ and VG-.
There are some very discreet surrounding nuisance throughout the record.

A nice front cover!...That is nearly Mint!
A small trace of a black ink pad stamp on the rear's lower right handcorner.