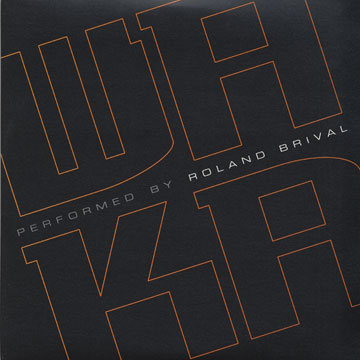 Roland Brival (flute)
"Waka"
Isma'a 2003 (réf. yeb lp 2006)
Avec la participation de :
Roland Brival (flute), Georges Edouard Nouel (piano), Steve Potts (saxophone), Camel Zekri (guitar), Bouchra Jalid (vocals), Jean-claude Montredon (drums), Roger Raspail (drums), Eric Vinceno (bass)
33rpm, stereo, neuf, 14.00 €
[16.24 US$, 1,720.60 ¥]

French original pressing
État du disque : S
État de la pochette : S
'WAKA' (Wa, voice /Ka, drum) : a name for what Roland Brival calls the 'mythic source' of Caribbean music. This 'New Diaspora Soul' explodes the limitations of Zouk music and reconciles the sweetness of bel-air's harmonies with African trance and the most abrasive jazz. Includes a great version of Jon Lucien's'The War Song'plus many more fantastic tracks ...