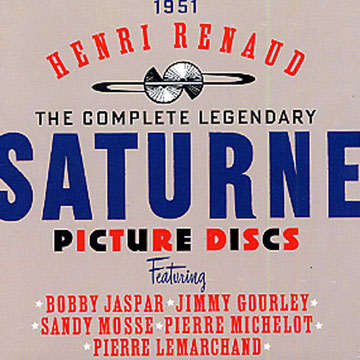 Henri Renaud (piano)
"On Saturne"
Paris Jazz Corner Productions 1951 (réf. PJC-222008)
Avec la participation de :
Henri Renaud (piano), Jimmy Gourley (guitar), Bobby Jaspar (saxophone), Sandy Mosse (saxophone), Pierre Lemarchand (drums), Pierre Michelot (bass)
CD, stereo, neuf, 10.00 €
[11.50 US$, 1,241.00 ¥]

Digipack 2001 - 16 page color booklet
État du disque : S
État de la pochette : S
> See pictures about : Jimmy Gourley
> See pictures about : Bobby Jaspar
> See pictures about : Pierre Michelot
> See pictures about : Henri Renaud

In 1951, the French pianist Henri Renaud was 26, and the Belgian saxophone player Bobby Jaspar, 25, just like the american guitarist Jimmy Gourley. Together they discovered the new jazz of the time by listening to records of Charlie Parker 'With Strings', Al Cohn's quartet with George Wallington, Herbie Stewart and Jimmy Raney, and Stan Getz's quartet with Al Haig... A real shock to the system! Henri Renaud got a sextet together, including Sandy Mosse from the USA and pierre Michelot and Pierre Lemarchand from Paris. In June 1951 they recorded ten sides for the Saturne label, released as a magnificent serie of LPs know as 'picture discs'. This was the first time French musicians tried their hand at modern jazz, and with what talent, what originality! The result was telling. These records quickly became a legend in themselves, but were impossible to find on the market until now, when we are reissuing them in their entirety. At a time when a whole section of French jazz was looking over its soulder at the past, Henri Renaud was living his music in the present, fifty years ago.