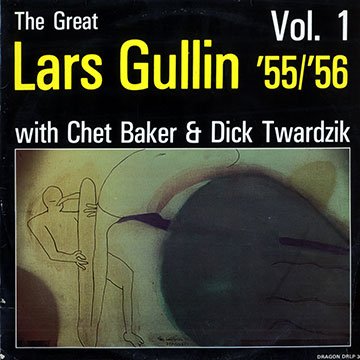 Lars Gullin (saxophone)
"The Great Lars Gullin Vol. 1 1955-56"
Dragon 1955-56 (réf. DRLP -36-)
Avec la participation de :
Lars Gullin (saxophone), Chet Baker (trumpet), Dick Twardzik (piano), Rolf Billberg (saxophone), Jimmy Bond (bass), Arne Domnerus (saxophone), Lennart Jansson (saxophone), Egil Johansen (drums), Peter Littman (drums), Bjarne Nerem (saxophone), Georg Riedel (bass)
33rpm, mono, occasion, 28.00 €
[32.20 US$, 3,474.80 ¥]

1982 original Swedish pressing
État du disque : VG+
État de la pochette : VG+
> vendu
Recording by the Swedish Radio Company in the 1950's.

Small wear on the edges and on the corners.