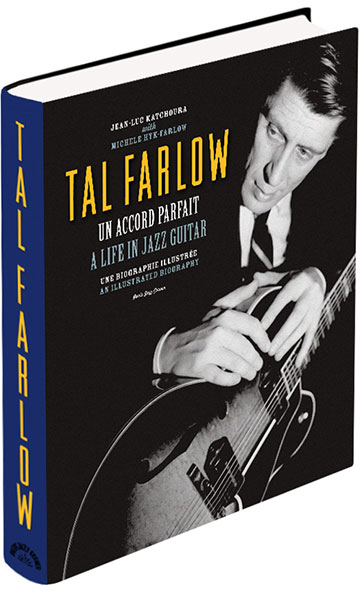 Tal Farlow (guitar)
"TAL FARLOW - Un accord parfait - A life in Jazz Guitar"
Parisjazzcorner 2014 (réf. PJC - 1)
Avec la participation de :
Tal Farlow (guitar),
CD, stereo, neuf, 69.00 €
[81.42 US$, 8,949.30 ¥]

Illustrated biography - ENGLISH & FRENCH TEXT
État du disque : S
État de la pochette : S
ENGLISH & FRENCH TEXT


GIFTS FROM TAL
Selection et comments: Yves Torchinsky
Sound re-mastering: Mohammad Reza Sadeghin

1. About Tal's childhood: (excerpt, Phil Schapp radio interview, WKCR, Columbia New York, circa 1995)
'Tal's voice here, is always and instantly touching, it reveals his gentleness. Here Tal relates the way he developed his approach to his guitar,he first learned all the chords with a 4- string guitar, the he added the bass using the thumb of his huge hand. This specific technic allowed him to play like no one else, to keep the 4-note chord and substitute the bass as a pianist would. His introductions are so richt it always reminds me of a pianist playing'

2. Body and soul: ( Hot Brass, Aix-en provence July 1984, with Francis Varis, Dominic Cravic, Yves Torchinsky and Jean- Claude Jouy)
' This song illustrates Tal's chord technic as well his harmonics'

3. About Bird: (Excerpt Phil Schapp, Radio interview WKCR Columbia NY, circa 1995)
'The awe and respect that Tal paid to the great Charlie Parker shows in this except. Art Tatum, Charlie Christian, Charlie Parker, and Oscar Pettiford were his major influences.

4. Out of nowhere
5. In a mellow tone
6. How deep is the ocean: (4,5 and 6 with Jimmy Raney, Sea Bright early 1960s)
' Jimmy Raney and Tal Farlow were close friends and great musicians whose ideas and spirit clearly appear in these excerpt. These two men play and record for the pure pleasure of making music together: a unique moment!'

7. If I had you: (with Gene Bertoncini, Ambient recording, Stamford CT , February 10, 1998)
'Meeting beetwen two old friends, Tal Farlow and Gene Bertoncini in an unreleased studio recording. Gene is , of course , playing the nylon string guitar.

8. Gone with the Wind :(with Red Mitchell , Sea Bright early 1960s)
' Many years after playing together in the Red Norvo trio, the two friends met to jam. Recorded at Tal's home, this selection demonstrates the joy of their reunion

9. Almost like being love ( with Red Mitchell)

10. Technique: ( Excerpt , Phil Scharpp radio interview, WKCR , Columbia University , NY circa 1995)
'Tal explains his use of the pick and his taste fou up-beat tempos, a taste of very well illustrated in this selection.

11. How high the moon: ( Live with Jack Wilkins at the New York School for Social, Research, November 5, 1982)
'Jack was a friend,and a great fan of Tal's. Here is the meeting of two virtuosi improvising at an insanely up-beat tempo.