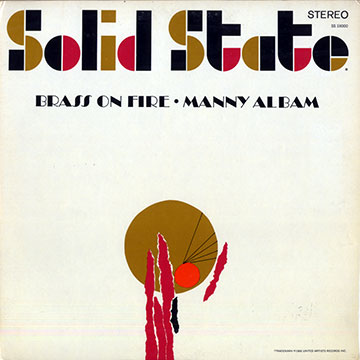 Manny Albam (drums)
"Brass on fire"
Solid State 1966 (réf. SS 18000)
Featuring :
Manny Albam (drums), Bob Brookmeyer (trombon), Richard Davis (bass), Barry Galbraith (guitar), Joe Newman (trumpet), Wayne Andre (trombon), Eddie Bert (trombon), John Frosk (trumpet), Ernie Royal (trumpet), Danny Stiles (trumpet), Tony Studd (trombon)
33rpm, stereo, second hand, 32.00 €
[37.12 US$, 3,932.80 ¥]

Original US pressing, gatefold cover
Record's condition : VG+
Cover's condition : VG+
> sold
The record is near mint VG+.

The cover is in good condition.