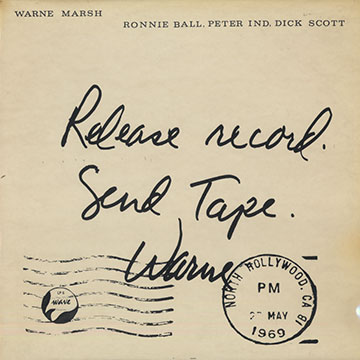 Warne Marsh (saxophone)
"Release record. Send tape. Warne -"
Wave records 1969 (réf. WAVE 6)
Avec la participation de :
Warne Marsh (saxophone), Ronnie Ball (piano), Peter Ind (bass), Dick Scott (drums),
33rpm, stereo, occasion, 44.00 €
[49.28 US$, 5,354.80 ¥]

English original pressing
État du disque : VG+
État de la pochette : VG+
Little crackling.

The back cover is a bit dirty with sticker trace and little sticker.