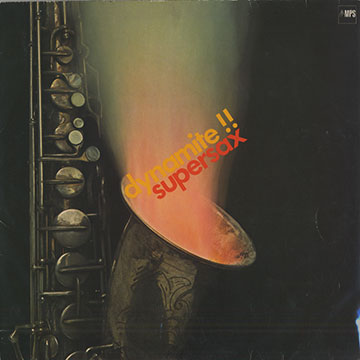 Supersax (Group Leader)
"Dynamite"
MPS 1978 (réf. 0068.210-)
Avec la participation de :
Supersax (Group Leader), Conte Candoli (trumpet), Med Flory (saxophone), Lou Levy (piano), Don Menza (saxophone), Jay Migliori (saxophone), Lanny Morgan (saxophone), Jack Nimitz (saxophone), Frank Rosolino (trombon), Fred Atwood (bass), John Dentz (drums)
33rpm, stereo, occasion, 10.00 €
[11.10 US$, 1,225.00 ¥]

German original pressing (black label)
État du disque : VG
État de la pochette : VG+
Some slight crackling on the side two.

The corners and the cover edges are slightly used.