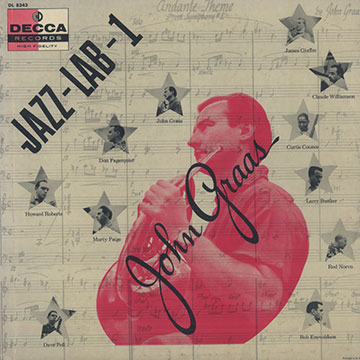 Johnny Graas (cor)
"Jazz - Lab -1"
Decca 1956 (réf. DL 8343)
Featuring :
Johnny Graas (cor), Curtis Counce (bass), Jimmy Guiffre (saxophone), Red Norvo (vibes), Dave Pell (saxophone), Howard Roberts (guitar), Claude Williamson (piano), Larry Bunker (vibes), Bob Enevoldsen (trombon), Don Fagerquist (trumpet)
33rpm, mono, second hand, 40.00 €
[46.40 US$, 4,916.00 ¥]

Original US pressing, deep groove, black label
Record's condition : VG-
Cover's condition : VG+
> sold
Slight general wear but the record rings!
Slight crackling and few traces causing tics and a few clicks.

The cover is in good condition with very slight wear on the edges and on the corners.
The back is a little bit dirty with small stamp.