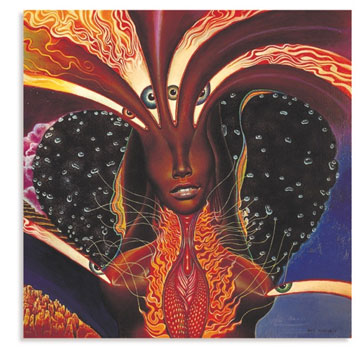 Miles Davis (trumpet)
"Mati & the Music - Miles Davis "
52 RECORD COVERS
1955/2005

A book on MATI KLARWEIN'S original paintings made for Lp & CD covers

Accompanying the launch of this book is a double album
of a previously unreleased MILES DAVIS concert
that was part of his 1969 'BITCHES BREW' European tour,
with a portrait of Betty Davis on the cover.
The painting known as Zonked had been commissioned
by the trumpet player but was never used at the time,
due to their separation.
(The famous model and singer Betty Davis introduced her husband
to the funk of Sly Stone and psychedelic rock of Hendrix.
Miles Davis left her in 1969, at the time of his European tour,
later saying he thought her, 'too young and too wild' for him).

Mati Klarwein, visionary artist
Son of a Bauhaus architect and an opera singer, Mati Klar-wein was born in Germany in 1932, he grew
up in Palestine, started painting in Paris, in Fernand Léger's studio where he met Salvador Dali, then later
in the Viennese painter Ernst Fuchs' studio, he obtained French nationality with the help of Madame Malraux,
played jazz with Boris Vian before moving to New York in the mid 1960s in the middle of the hippy
revo-lution and he never stopped moving his studio across the world from India, Bali and Morocco to
Brazil, Greece, Ghana, Cuba and elsewhere, before ending up in his Balearic village of predilection, Deia,
where he passed away in March 2002.
His oeuvre consists of more than 600 paintings, including 270 portraits, 280 landscapes, which he called
Inscapes, and over 100 Improved Paintings, canvases bought at flea markets which he then adapted into
his own work.

LP n°1:
Side A
1- Directions 7:14 (Josef Zawinul) BMI
2- Miles Runs The Voodoo Down 9:40 (Miles Davis)
Side B
3- Bitches brew 15:35 (Miles Davis)

LP n°2:
Side C
1- Agitation 10:28 (Miles Davis)
2- I Fall In Love to Easily 3:39 (Sammy Cahn & Jule Styne) ASCAP
3- Sanctuary 3:29 (Wayne Shorter)
Side D
1- It's about That Time / The Theme 19:52 (Miles Davis)

The double album will be sold exclusively with the book.

NOW AVAILABLE!!!