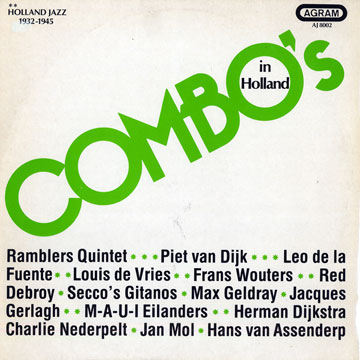 Various Artists
"Combo's in holland"
Agram 1932/45 (réf. AJ8002)
Featuring :
Various Artists, Leo De La Fuente (piano), Louis De Vries (trumpet), Red Debroy (saxophone), Max Geldray, Jacques Gerlagh, Jan Mol, Piet Van Dijk (saxophone), Frans Wouters,
33rpm, mono, second hand, 15.00 €
[19.20 US$, 1,983.00 ¥]

Dutch pressing
Record's condition : VG+
Cover's condition : VG+
Slight cracklings especially due to the recordings.
Little surface rip on the back.