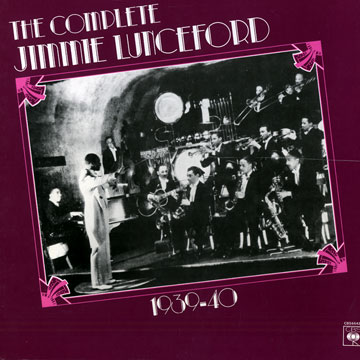 Jimmy Lunceford (saxophone)
"The Complete Jimmie Lunceford"
CBS 1939/1940 (réf. CBS 66421)
Avec la participation de :
Jimmy Lunceford (saxophone), Moses Allen (bass), Russell Bowles (trombon), Earl 'jock' Carruthers (trumpet), Jimmie Crawford (drums), Elmer Crumbley (trombon), Dan Grissom, Alex Norris (trumpet), Sy Oliver (trumpet), William Smith (hammond organ), Tommy Stevenson (trumpet), Joe Thomas (clarinet), Eddie Tompkins (trumpet), Paul Webster (trumpet), Henry Wells, Eddie Wilcox (piano), Snooky Young (trumpet), Trummy Young (trombon)
vinyl box set, mono, occasion, 22.00 €
[28.16 US$, 2,905.98 ¥]

French pressing, 4 records on the box set
État du disque : M
État de la pochette : M
These are 4 fine M volumes establishing the proper and definite Lunceford's big band retrospective over the 1939/1940 season!
A swell and rather helpful booklet is featured within the boxset.
On glossy B&W pictures alongside with Lunceford one can see

The record is VG+ (near mint).

Snooky Young, Trummy Young, Paul Webster, Joe Thomas...
Accurate tracklisting.
Friendly and warm note from ever popular Swing arranger Sy Oliver to Mr. Henri Renaud; supervising producer of the boxset.

We're swinging between Up tempos swing and boogie tracks as well as tunes to be crooned...