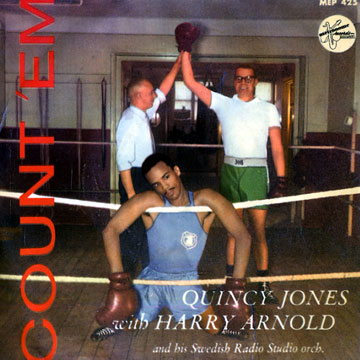 Quincy Jones (trumpet)
"Count'em"
Metronome 1958 (réf. MEP 425)
Avec la participation de :
Quincy Jones (trumpet), Harry Arnold (arranger), Arne Domnerus (saxophone), Sixten Eriksson (trumpet), Arnold Johansson (trumpet), Ake Persson (trombon), Lars Pettersson (vibes), Weine Renliden (trumpet), Bengt-arne Wallin (trumpet)
45rpm, stereo, occasion, 20.00 €
[25.60 US$, 2,641.80 ¥]

US pressing
État du disque : VG-
État de la pochette : VG+
Cracklings.
The corners and the cover's edges are very slightly used.
The back cover is yellowed.