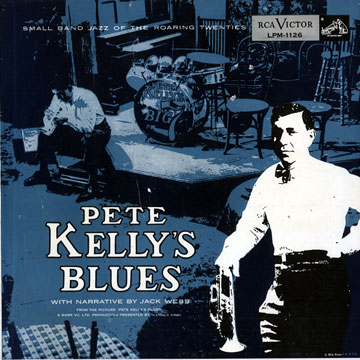 Dick Cathcart (trumpet)
"Pete Kelly's Blues"
RCA victor 1955 (réf. LPM 1126)
Featuring :
Dick Cathcart (trumpet), George Van Eps (guitar), Jud DeNaut (bass), Nick Fatool (drums), Matty Matlock (clarinet), Eddie Miller (saxophone), Elmer Moe Schneider (trombon), Ray Sherman (piano)
33rpm, stereo, second hand, 32.00 €
[36.80 US$, 4,224.00 ¥]

Original US pressing (black and steel grey label, EMI puppy, deep groove)
Record's condition : VG+
Cover's condition : VG+
> sold
Jack Webb plays Pete Kelly, a cornet player in this Dixieland style jazz outfit.

The album is the original soundtrack music to a gangster movie and is narrated by Jack.

His voice and that patented deadpan delivery are just perfect for this LP.
Guitar work is by George Van Eps who would record music for many performers.

VG+/VG- record.
Occasional mild sputterings.
Mild snaps on 'Oh! Didn't he rumble!'.

The interest here is also contained in the cover art.
Some very discreet stains on the rear cover.