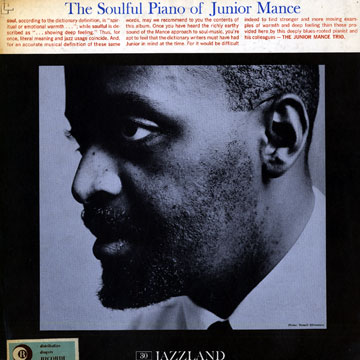 Junior Mance (piano)
"The Soulful Piano of Junior Mance"
Jazzland 1960 (réf. JLP 30.)
Avec la participation de :
Junior Mance (piano), Bobby Thomas (drums), Ben Tucker (bass)
33rpm, mono, occasion, 60.00 €
[77.40 US$, 7,974.00 ¥]

US original pressing (orange label, deep groove)
État du disque : VG+
État de la pochette : VG+
The left corners of the cover are lightly damaged and the main edge has turned to yellow.
A little writing on the left upper corner of the front cover and a little sticker (French distributor) on the left bottom corner.
A writing on the back cover. Stamp on each label sides.
A very light cracklings.