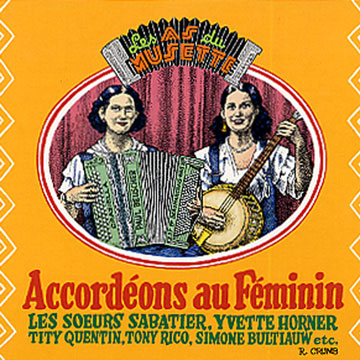 ¬ Various Artists
"Accordéons au Féminin"
Paris Jazz Corner Productions 2000 (réf. PJC222007)
Avec la participation de :
¬ Various Artists, Simone Bultiauw, Paula Chabran, Yvette Horner (accordeon), Denise Mérat, Tity Quentin, Tony Rico, Graziella Sabatier, Mercedes Sabatier, Line Viala
CD, stereo, neuf, 12.00 €
[15.36 US$, 1,585.08 ¥]

Digipack

> vendu
Cover by Robert Crumb.
In solist, in duet with a banjo, or in full orchestra, here is finally a panorama of the women accordionists: the least known, the stars, the pioneers, the virtuosos or the poetess of the accordion cross themselves on this album, seven women for the greater part forgotten by the history of this popular instrument.