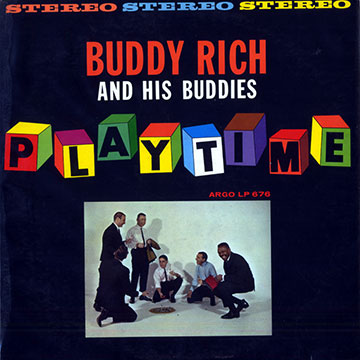 Buddy Rich (drums)
"Playtime"
Argo 1960 (réf. LPS-676)
Featuring :
Buddy Rich (drums), Richard Evans (bass), Mike Mainieri (vibes), Sam Most (flute), John Morris (trombon), Wilbur Wynne (guitar)
33rpm, stereo, second hand, 42.00 €
[47.46 US$, 5,409.60 ¥]

Original US pressing, deep groove, blue label
Record's condition : VG+
Cover's condition : VG+
> sold
Very slight crackling.
Very superficial long trace and not audible on the side two.
Opening on the bottom edge, on the right corner.The back cover is a little bit dirty.
Cover in good condition...